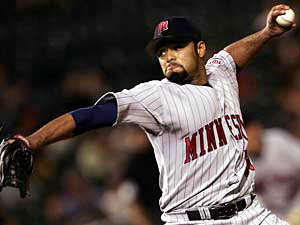 By resigning Mike Lowell and Curt Schilling the Red
Sox
drew a line in the sand. (I don't know, maybe winning the World Series had something to do with it as well.) They are the team to beat, not only in their own division, but in the whole American League. Every significant
contributor
from the 2007 Championship team has been signed for 2008, except Mike
Timlin
.
Timlin
is a valuable bullpen arm, even at age 42, but if the Red
Sox
decide to part ways with him permanently, it won't leave a gaping hole. Not in a bullpen that includes Jonathan
Papelbon
, Manny
Delcarmon
,
Hideki
Okajima
, Javier Lopez, Brendon
Donnelly
, and Julian
Tavarez
.
Timlin
might even be seen as superfluous, with Craig Hansen, Kyle Snyder, and
Devern
Hansack
also ready for the
bigs
.
As that list of relief arms suggests, not only has Boston filled the 2008 roster, they have an abundance in almost every area. Assuming Josh Beckett,
Daisuke
Matsuzake
, and Curt Schilling are certain members of the rotation, that leaves two spots for the quartet of Clay
Bucholz
, Jon Lester, Tim Wakefield, and
Kason
Gabbard
. Although they picked up his option, it isn't unlikely that 17-game-winner Wakefield may be headed back to the bullpen as a
swingman
and long reliever. Also, since
Jacoby
Ellsbury
took over the starting job in
centerfield
during the playoffs, Coco Crisp is currently the most over-qualified fourth outfielder in baseball, joined by Brandon Moss, a young left-handed power hitter who fits the Boston mold and, at 24, after smacking 59 extra base hits in 500 AAA at-bats in 2007, appears ready for his shot in the show. The only real question mark for the Red
Sox
is whether they can depend on Julio
Lugo
as the shortstop after he abysmal showing, offensively and defensively, during the first year of his contract. Thankfully, if he starts '08 the way he started '07, they won't have to put up with it for long. Prospect Jed
Lowrie
was the Red
Sox
' Minor League Player of the Year in '07, posting an 896 OPS between AA and AAA, and
sluggling
above .500 at each level. Unless they deal him to Minnesota as part of a package for Johan Santana, I expect
Lowrie
to supplant
Lugo
(or, possibly,
Pedroia
, if he suffers a sophomore slump) sometime during the 2008 season.
While there is always a case to be made for adding a pitcher of Santana's ilk, by doing so the Red
Sox
would be significantly sacrificing their depth chart. Any deal would almost certainly include at least one of their young pitching studs, possibly more, and two players from the cheap, young quartet of
Ellsbury
,
Lowrie
,
Pedroia
, and Crisp. (ESPN is reporting the package as Lester, Crisp, and Lowrie.) A rotation featuring Santana, Beckett, Schilling, and Dice-K would be something to marvel at, but it would cost Boston the ability to compensate for injuries to position players. For a team that employs many mid-to-late-thirties veterans, selling off youth is a serious risk.
Ditto for the Yankees. According to the Times, they have officially made an offer to the Twins (an offer which does not include
Joba
Chamberlain). I would bet that it is comprised of some configuration of Robinson
Cano
,
Melky
Cabrera, Phil Hughes, Ian Kennedy, Shelley Duncan, Eric Duncan, and Wilson
Betemit
. Again, alongside Chamberlain and Chen-Ming Wang, Santana would headline a very imposing rotation. But, he would be among the first to attest that there is a sizable difference between having
Melky
Cabrera as your everyday
centerfielder
or Johnny Damon. The Yankees have finally stockpiled enough quality prospects to prevent them from having to overpay for half a dozen free agents every winter. It would be a mistake to mortgage that surplus for another veteran whose demands will likely
exceed
$150 Million. They were younger and more defensively sound in the Bronx during the second half of 2008. It seemed to work.
Which brings us, naturally, to the Minnesota Twins. As an organization they have been, throughout the reign of Terry Ryan, vigilant in retaining players which provide depth, especially for their pitching staff. I don't expect that to change drastically as Ryan makes way for protege, Bill Smith. The Twins seem ready for action this
offseason
, prepared to part ways with three high-profile players:
Torii
Hunter, Johan Santana, and Joe Nathan. It remains to be seen whether Santana and Nathan will get dealt. But, it appears to be a legitimate possibility, as the Yankees and Red
Sox
have already publicized offers. Whatever happens, don't mistake Minnesota's willingness to part with a few stars as the beginning of a long rebuilding process. Popular superstars, Justin
Morneau
and Joe
Mauer
, have two and three years left on their contracts, respectively, so the Twins will be looking to make a serious run at a championship sometime in the next two years. Such a run will mean
supplanting
Cleveland and Detroit atop the AL Central, neither of whom show signs of impending decline. As such, the Twins realize that they must be willing to sacrifice domination at a few positions for solidity throughout the roster.
Going into the offseason, Minnesota had glaring question marks at second base, third base, left field, center field, and designated hitter. With the two trades they've already made, acquiring Craig Monroe from the Cubs and trading Matt Garza and Jason Bartlett to the Devil Rays for Delmon Young and Brendan Harris, they addressed a couple of those positions. They could afford to trade Garza because they assume that Francisco Liriano will be recovered in time to replace him in the rotation on opening day. If the season were to start tomorrow, it seems likely that Monroe would be the everyday leftfielder and Young would play center, while Harris would replace Bartlett at short. Offensively, I expect that Young will be the equal of Torii Hunter as soon as 2009. However, while he has great speed and a strong arm, he is much better suited to right than center, which is convenient since Micheal Cuddyer, the Twins' reigning rightfielder, is much better suited to left or DH. Similarly, while Brendan Harris is at least as good with the bat as Jason Bartlett, he is defensively better suited for second or third, rather than shortstop. Craig Monroe is a career .304 hitter at the Metrodome, and has an 814 career OPS against lefthanders. He is a very decent defensive leftfielder. I imagine the Twins see him as the righthanded side of a platoon with Jason Kubel, with the ability to spell their other outfielders and hit off the bench.
I would guess that the depth chart in Bill Smith's office looks something like this:
C - Mauer
1B - Morneau
2B - Harris
3B - ?
SS - ?
LF - Kubel/Monroe
CF - ?
RF - Young
DH - Cuddyer
SP - Santana (?), Liriano, Bonser, Baker, Slowey, Perkins (?)
RP - Nathan (?), Neshek, Rincon, Guerrier, Crain, Reyes
IF - Casilla, Punto, Redmond
OF - Tyner
The Twins have some flexibility in the infield. Harris showed considerable offensive promise as a rookie in '07, hitting .286 with a 777 OPS and 12 HR and 59 RBI in 137 games with Tampa Bay, while playing respectable defense at second and thrid. Alexi Casilla struggled at the plate and in the field after replacing Luis Castillo at the end of 2007. But, he did steal eleven bases in twelve attempts, and his minor league numbers suggest he could develop into a solid lead-off hitter who plays mediocre defense at second or short. Punto provides outstanding defense at all three infield positions, but had the worst OPS of any major-leaguer in 2007, by a long shot (Punto: 562, Kendall (2nd Worst): 610). The Twins would definitely benefit most from adding a shortstop, but if none were available (for the right price), they could settle for solid offensive contributor who plays second or third.
Any package for Santana needs to include, at the minimum, a young, but major-league ready starting pitcher, a strong defensive centerfielder, and a promising infielder. Both Boston and New York have the first two pieces: Lester and Crisp from the Red Sox, Hughes and Cabrera from the Yankees. Hughes and Lester are essentially a draw in terms of quality. And, while Cabrera is probably the superior value compared to Crisp, Lowrie is likely to be the difference. He would be a Rookie of the Year candidate playing a critical position. The best the Yankees can offer is Wilson Betemit, who hasn't shown the ability to play short in the big leagues and has been an inconsistent hitter with stints in Atlanta, Los Angeles, and New York, all by the age of 25. Betemit could still turn into the superstar he was once predicted to be, but New York's best chance of beating out Boston in the Santana sweepstakes is to sweeten the offer with one of the Duncans, who could fit into the Twins' LF/DH mix. But, as I suggested earlier, a 4-for-1 swap does serious damage to a Yankees' depth.
Perhaps other teams will join the fray as the winter meetings get underway. Only a few can cobble together the pieces that would be required (including the $150 Million to sign Santana long term). The Mets are certainly interested, but by dealing Lastings Milledge to Washington, the let go of one of their best bargaining chips. They still have a couple of solid outfield prospects in Ben Johnson and Carlos Gomez. They've got major-league ready starters in Philip Humber and Mike Pelfrey (though neither is the equal of Hughes and Lester). And they have a young switch-hitting middle infielder named Anderson Hernandez. But, while the pieces are there, they would have to improve upon them in some way to beat out the Red Sox and Yankees. Would they be willing to part with John Maine?
The Dodgers, who have not been mentioned in Santana discussions, may be the darkhorse candidate. They have an abundance of young big-leaguers. Matt Kemp and Delwyn Young (Delmon's brother) can both play center field. Andy LaRoche, Tony Abreu, and Chin-Lung Hu are promising infielders (Hu is a shortstop). And, Clayton Kershaw, Chad Billingsley, and Hong-Chih Kuo are major-league ready starters. Los Angeles appears ready to deal some of their youth because they are log-jammed at several positions, but their most desperate need is a power bat. But if they fail to reel in Miguel Cabrera, they may turn their attentions elsewhere.
If Bill Smith does deal Santana, it is likely that Joe Nathan will follow, with Pat Neshek or Juan Rincon taking over closing duties in Minnesota. With Nathan as the centerpiece, Smith could craft a package to pursue a veteran like Scott Rolen (a third part would be necessary) or Miguel Tejada. Or, he could fleece a team desperate for a closer (Mikwaukee? Texas?) for several prospects and important role players.
By Opening Day 2008, I expect the Minnesota Twins will be completely redesigned. They have relied on pitching and defense in recent years. By no means do I expect them to forget the importance of either, but they will be supporting their young, promising rotation with a deep, potent lineup. Even now, the core of Mauer, Cuddyer, Morneau, and Young is nothing to scoff at. In 2009 it may be considered as good or better than the impressive quartets in Cleveland and Detroit.