Regardless of your loyalties, if you're even a moderate baseball fan, at least once this year you've scratched your head while looking at the abysmal line of the Chicago White Sox in the morning's box scores. Last year the White Sox had the sixth best record in baseball, with 90 wins, even though they finished third in the AL Central and missed the playoffs. And, of course, the year before that they won the World Series. This year they are worse than the Royals...and the Rangers. Must've been a fire sale along the way somewhere, right? A Marlin-style, post-World Championship roster deconstruction? No, actually. They replaced Carl Everett with Jim Thome. They replaced Orlando Hernandez with Javier Vazquez. Both would seem to be upgrades. They did trade Freddy Garcia and Aaron Rowand to the Phillies without finding adequate replacements. John Danks has been O.K., better than Garcia in 2007. Center field has essentially been a black hole - the space where Chris Young should've been. But plenty of competitive lin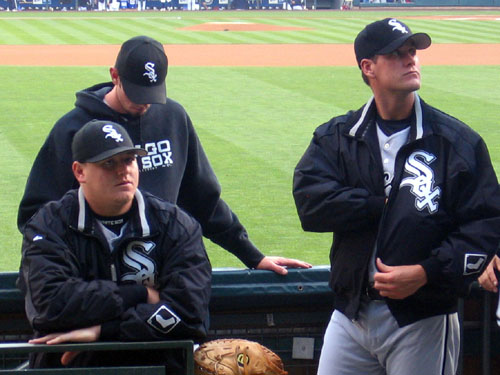 eups have holes (Detroit: Left Field, Cleveland: Third Base, etc.).
The real difference between 2005 and 2007 for the White Sox, besides improved competition from the rest of their division, is in the bullpen. Bobby Jenks remains, as dominant as ever at the back end, but between him and the very adequate starting rotation: nothing. In 2005 the White Sox had Dustin Hermanson, who began the season as a setup man for Shingo Takatsu, and converted 34 saves in 39 chances with a 2.04 ERA before losing his job to Shrek just before the playoffs. Neal Cotts (1.94), Cliff Politte (2.00), Damso Marte (3.73), and Luis Vizcaino (3.77) all made between 65 and 70 appearances. The Sox had half-a-dozen significant contributors out of the bullpen in their championship season - not including Takatsu, who logged 8 saves and 3 holds before being demoted and eventually let go. In 2006, the palehose 'pen was not nearly so dominant, but they still had some favorable performances. Politte (8.70) and Cotts (5.17) saw their ERAs sky-rocket, but still combined for 100 appearances. Their positions as reliable lefty-righty setup men were taken over by Mike MacDougal (1.80) and Matt Thorton (3.33). David Riske (3.93) gave them some quality innings and Brandon MacCarthy (4.68) was a workhorse with a team high in relief innings, as well as a couple of spot starts. In 2006, seven White Sox appeared 25 or more times. In 2007, the same thing can bet said, but none of those seven White Sox relievers (besides Jenks) with twenty or more games has an ERA under 4.35, and only two have kept themselves below 5.00. Nobody (again, besides Jenks) has logged fifty innings yet. The argument I appear to be making, circumspectly, is that more than their vaunted five-man rotation and Ozzie-ball offense, it was the bullpen that got the White Sox to the postseason in '05.
I will continue to argue that depth is the single most important factor in surviving the 162 game grind. Part of that depth should be in relief pitching. When you look at teams who are drastically underachieving or overachieving you'll usually find a correlation in the bullpen. Take, for instance, those pesky Kansas City Royals who recently moved in front of the Sox in the AL Central. Kansas City doesn't have a hitter with more than 16 HR or 52 RBI. No regular has an OPS over 800. Although Gil Meche (3.85) and Brian Bannister (3.27) have been a pretty good 1-2 punch in the rotation, Bannister is the only piece of the starting core with a winning record. The Royals are getting better, undoubtedly, but they still don't have whole lot to work with in the everyday lineup. What Kansas City does have is four relievers who have made more than fifty appearances already in 2007, none of which have an ERA higher than 3.87. That doesn't even include Octavio Dotel, who logged 11 saves for the Royals before getting traded to the Braves, or Zach Greinke, who between starting assignments pitched 53 relief innings, recording 55 strikeouts, and a 3.54 ERA. Even journeyman Brandon Duckworth has found his Kansas City swing, grabbing two wins, a save, and a 2.94 ERA in thirtysome innings between the bullpen and the rotation. All told, the Royals have nine pitchers with primarily relief innings who have ERAs lower than any of the members (non-Jenks) of the White Sox bullpen. Kansas City's starters aren't going to scare anybody, but when they hand the ball over with a lead, their teammates get it done. That's how Jorge de la Rosa and Odalis Perez each have 8 wins despite their 5.50+ ERAs.
So reliable bullpen arms are valuable, the trouble is identifying them. After all, keeping with the White Sox analysis, Cliff Politte, Neal Cotts, Shingo Takatsu, and Mike MacDougal all saw their ERAs rise by more than three runs from one year to the next. There have been some disastrous or near disastrous contracts given to middle relievers in recent years: Latroy Hawkins (3 years/$12 M), Danys Baez (3 years/$19 M), Steve Karsay (4 years/$21 M). But there have also been some guys probably worth well more than they get paid: Bobby Howry (3 years/$12 M), David Riske (1 year/$2 M), Mike Timlin (1 year/$3 M). How do you know which is which? I've got some ideas.