Who are truly the best defensive players in baseball in 2007?
Catcher NL : Russell Coltrane Martin - Los Angeles Dodgers
One of the rare occasions when popularity may benefit the deserving candidate. Martin has become known as one of the game's preeminent hustlers, he is easily the best offensive catcher in the NL, and the catch he made hanging onto the netting behind home plate will be on every highlight reel for years to come. Martin is a converted infielder who hasn't been catching for two full seasons yet, at any level. As such, baserunners have not been shy of him. He has given up more stolen bases than anybody but Jason Kendall and Jorge Posada. However, teams have slowed down as the season has gone on. Coltrane's CS% is 2nd in the NL among qualifying backstops. (He'll fall to third if Yadier Molina eventually accumulates enough innings.) He's picked off four of ten would-be basestealers in August. Seizing control of the running game is one thing, seizing control of the pitching staff is significantly more important. Martin has the best Catcher's ERA in the NL, second in all of baseball, even though the Dodgers pitching staff is 5th in the NL and 7th in the MLB. He also leads all catchers in Innings and Range Fielded. I don't dispute that a healthy Yadier Molina deserves the golden mitt on his mantelpiece annually, but this is the year to give it to the man who may be his only legitimate competition for the next decade.
Runner-Up: Molina, David Ross
Catcher AL: Kenji Johjima - Seattle Mariners
Kenji has made only one error all season. He's thrown out about 38% of basestealers, 2nd in the AL. And, most amazingly, has managed a pitching staff composed of raw youngsters and veteran castoffs into playoff contention. As with Martin, his notoriety as a valuable offensive catalyst doesn't hurt. I-Rod will probably win again on his much deserved reputation, but for the first year it appears his defensive skills are fading (24.5 CS%, 5 ER).
Runner-Up: A. J. Pierzynski, Jason Varitek
First Base NL: Todd Helton - Colorado Rockies
The National League is replete with solid, even exceptional, defensive players at a weak defensive position. The recent addition of Mark Teixeira only adds to the abundance. Teixeira, Derrek Lee, and Helton have all won the award on multiple occasions. Albert Pujols won his first last year. The fact that Lee and Helton both spent significant time on the DL should not diminish the accomplishment. This year Pujols is 2nd in Zone Rating, 2nd in Range Factor, and 2nd in Assists. But Helton deserves to win his 4th. He leads the league in Zone Rating, Range Factor, Fielding Percentage, and Double Plays. Plus, he captains a young infield that includes some loose canons.
Runner-Up: Pujols, Lee, Adrian Gonzalez
First Base AL: Kevin Youkilis - Boston Red Sox
In the AL, thanks to the loss of Teixeira, there is no first baseman with previous gold glove credentials. Guys like Lyle Overbay, Richie Sexson, and Sean Casey have solid reputations, but , amazingly, Youkilis, a converted third baseman has gone 820 innings without dropping a Mike Lowell lightning bolt or botching a tricky Fenway hop. He hasn't made a single error all season. It's hard to argue with that.
Runner-Up: Lyle Overbay
Second Base NL: Brandon Phillips - Cincinnati Reds
I'll lead with some statistics. He's first in Total Chances (574), Putouts (245), Double Plays (89), and Fielding Percentage (.990). He's second in assists (323). He's third in Range Factor (5.10) and Innings (1003). In those latter categories, he trails by only a narrow margin. But if you watch Baseball Tonight, you don't need these statistics. Phillips makes regular appearances on Web Gems, almost Omar Vizquel-regular, and his spectacular plays are often in game-saving situations. His athleticism will make him a perennial contender for this award.
Runner-Up: Orlando Hudson, Adam Kennedy
Second Base AL: Placido Polanco - Detroit Tigers
He's not got the best range in the league, but he just set a record for second basemen for the most chances and games without making an error. As I put forth for Youkilis, that kind of consistency makes for an easy case. And, it isn't like Polanco doesn't take any risks.
Runner-Up: Mark Ellis
Third Base NL: Pedro Feliz - San Francisco Giants
Sure, my Bonds obsession means I watch a lot of Giants games. One might conclude that my daily observance has given me a bias towards Feliz. Keep in mind, claiming that Feliz deserves a gold glove is not equivalent to claiming that Feliz deserves to be the Giants everyday third baseman. The statistics show that what I have been observing of Feliz' defensive gifts is no illusion. He leads the NL in Range Factor and Zone Rating. He is only behind Aramis Ramirez and Scott Rolen in Fielding Percentage by the slimmest of margins (.002). Those who would support the ever-popular David Wright should note that he isn't near the top in any of these categories.
Runner-Up: Rolen, Ryan Zimmerman
Third Base AL: Eric Chavez - Oakland Athletics
Eric Chavez' streak of six consecutive Gold Gloves is unlikely to come to an end this year. Not because Chavez has been very good, but because nobody else has been exceptional either. This race was opened up by the injury to Joe Crede, who was playing exceptionally, despite his bad back. Don't get me wrong, I think Brandon Inge, Mike Lowell, and Chavez are all great third basemen, but they have all had mediocre years on defense after great performances in 2006. Chavez and Lowell led the league with .987 Fielding Percentages in 2006. Chavez' .975 is good enough this year. Inge led the AL with a 3.45 Range Factor in 2006. Inge, Lowell, Crede, Adrian Beltre, and Chavez were all better last year than Melvin Mora's league-leading 2.97 in '07.
Runner-Up: Inge, Lowell
Shortstop NL: Omar Vizquel - San Francisco Giants
Not much explanation is needed here. Somebody may get a chance to start their own collection soon, but Omar has made an excellent case for his twelfth Gold Glove; 1st in Fielding Percentage, 1st in Zone Rating, 4th in Range Factor.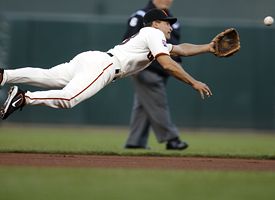 Runner-Up: Jose Reyes, Troy Tulowitski
Shortstop AL: Orlando Cabrera - Los Angeles Angels
I will start by pointing out that Derek Jeter is 12th of thirteen eligible shortstops in Zone Rating, 9th in Range Factor, and 6th in Total Chances and Fielding Percentage, despite playing more innings than any other AL Shortstop. If he wins again this year, it will be the biggest travesty yet. It should be a four-way competition. At this point it is too close to call. The sure-handed Orlando Cabrera would be my bet.
Runner-Up: Jhonny Peralta, Micheal Young, Juan Uribe
Outfield NL: Carlos Beltran - New York Mets, Andruw Jones - Atlanta Braves, Aaron Rowand - Philadelphia Phillies
Another rare instance where the voters might get it right. Playing centerfield on an NL East contender apparently demands the best. Jones is, of course, a perennial winner, and Beltran won his first last year. Rowand is getting a lot of attention thanks to his highlight reel plays and his all-star appearance. They are 1, 2, and 3 among NL centerfielders in Fielding Percentage, none of them having made more than 2 errors. They are 1, 2, and 5 among NL outfielders in Range. Rowand is tied for 2nd in outfield assists. Beltran is 2nd in Zone Rating.
Runner-Up: Shane Victorino, Jeff Franceour, Corey Hart, Alfonso Soriano, Austin Kearns, Eric Byrnes
Oufield AL: Ichiro Suzuki - Seattle Mariners, Curtis Granderson - Detroit Tigers, Gary Matthews Jr. - Los Angeles Angels
Ichiro has been downright amazing during his conversion to centerfield. He hasn't made an error all year. He has 8 outfield assists and trails only Granderson in putouts. Granderson and Ichiro should be easy choices. However, after them, Matthews Jr, Torii Hunter, David DeJesus, and Coco Crisp all deserve consideration. And that's just among centerfielders! A special notice should be made of Micheal Cuddyer and Mark Teahan who, as converted infielders, are ranked 1 and 2 in outfield assists. Teahan has led all AL Rightfielders in Range.
Runner-Up: DeJesus, Hunter, Crisp, Teahan