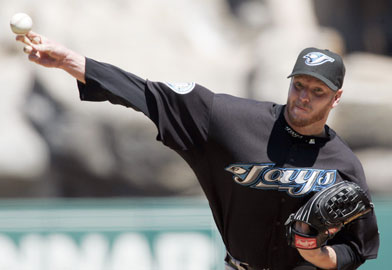 There are several reasons why sportswriters, commentators, and pundits are dismissing the Toronto Blue Jays this March.  First and foremost, there is the quality of their competition.  The Yankees, Red Sox, and Rays were all superior last season and each of those teams made more of an off-season splash than the Jays.  More importantly, perhaps, the Blue Jays strength, a pitching staff which was very quietly the best in baseball in 2008, has been decimated by the loss of three starters - A. J. Burnett to free agency, and Dustin McGowan and Shawn Marcum to injury.  Toronto was 11th in the A.L. in runs scored last year and their only offensive acquisition is Kevin Millar, so presumably they need to shut down their opponents in order to win.  Ace Roy Halladay and Jesse Litsch are the only pitchers competing for rotations spots this spring who started more than a dozen games in the majors last season.
These are areas of serious concern, but they don't provide a full picture of Toronto's potential.  One thing remains constant, the Blue Jays retain Halladay, the best starting pitcher in either league (with all due respect to Sabathia and Santana), and a veteran presence whose influence on his young teammates helps reify comparisons with Greg Maddux.  Halladay has electric strikeout-artist stuff, just like Maddux in his prime, but it is his willingness to pitch to contact which allows him to stick around deep into games and deep into the season.  He's surpassed 16 wins and 220 innings in each of the last three seasons, despite getting less than average run production.  With Doc's presence on the mound every fifth game, the Blue Jays have the ability to stop losing streaks and take pressure of their young arms and their bullpen.
That stable of young arms is impressive, even without Marcum and McGowan, both of whom are likely to miss all of 2009.  Jesse Litsch will be expected to move up to #2 in the rotation this year, at the age of 23, but his numbers from last season (13-9, 3.58 ERA, 99K, and 1.23 WHIP in 176 IP) suggest he is ready to be successful in that role.  In fact, he may be primed for a breakout season, more than filling the shoes of the departed Burnett.  Halladay and Litsch will be followed by some combination of David Purcey, Brett Cecil, Casey Janssen, Ricky Romero, Scott Richmond, and Matt Clement.  All the these pitchers possess a certain amount of upside, but Brett Cecil is the kid to watch most closely.  He jumped three levels in 2008 (at the age of 21), performing well at each of them and earning himself a long look this spring.  During his extended run at AA, Cecil posted a miniscule ERA (2.55) and excellent strikeout ratios (10.08 K/9, 3.78 K/BB).  More patient hitters at AAA led to more walks in his brief time there to end the season, but he continued to be overpowering (9.10 K/9) and generally effective (4.11 ERA).  Most prospects of his caliber would be getting some major love at this point, but Cecil is benefitting from the wall of invisibility that comes with playing baseball in Canada.  If he shows strong command during camp, he could be a sleeper for Rookie of the Year and a key to making the Blue Jays rotation formidable once again.
What has gone most unnoticed in the writing off of the Jays, however, is that there offense is not as bad as it appeared last season.  Extended injuries to Aaron Hill, Vernon Wells, and Scott Rolen meant far too much exposure for Marcus Scutaro, John McDonald, and Joe Inglett, each of whom provides value only in more limited utility roles.  The return of Wells, Rolen, and Hill will also bolster the performance of Alex Rios, the Jays star right-fielder, whose production also suffered early in the year.  From June on, Rios hit .306 with 12 HR and an 854 OPS, clearly benefitting from improved lineup protection.  Even if Toronto again struggles with injuries, the acquisition of Millar and Jose Bautista will give them improved offensive option off the bench.  
Former manager John Gibbons also experimented far too long with cast-away veterans Brad Wilkerson, Kevin Mench, and Shannon Stewart in the outfield and DH roles in 2008.  Don't expect Cito Gaston to make the same mistake.  One of Gaston's first acts as manager was inserting Adam Lind in LF full-time, the result of which was a .296 AVG, 9 HR, and a respectable 792 OPS from June 22nd on.  Lind can hit.  I expect all those numbers to improve in his sophomore campaign.  He will be followed to the big leagues by Travis Snider.  The two are Toronto's top hitting prospects, both providing considerable power and good plate discipline, both of which were profoundly missing last season when the Jays were 10th in the A.L. in OBP and 11th in SLG%.
There is very little pressure on the Jays as everybody looks at the AL East as a three-horse race, but I expect Toronto to again finish the season above .500 (for the fourth year in a row), play spoiler, and perhaps even challenge for a wild-card berth.