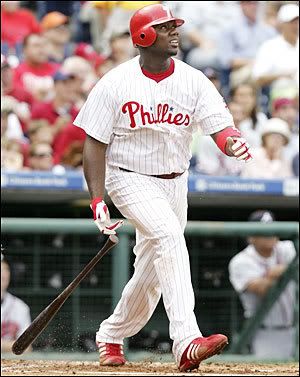 Preliminary reports indicate that Ryan Howard has signed a five-year $125 Million contract extension with the Phillies, making it quite likely he'll finish his career in Philadelphia. By the time the contract runs out in 2016, Howard will be 37-years-old.
Ryan Howard hit 220 HR in his first five seasons of his career. Nobody else has done that. Ryan Howard has led the majors in RBI for three of the last four seasons, something which hadn't been done since Cecil Fielder did it in the early '90s. He won the MVP Award in '06 and has finished in the top five in MVP voting every year since. So, why is
Rob Neyer calling this contract a "big bowl of wrong"
?!?
First off, let's look at this from the Phillies perspective. Howard is teddy bear. A big, smiling, happy-go-lucky slugger who hawks cheesesteaks on national television and has his own outreach program for underprivileged kids. Although he may not be as talented as Alex Rodriguez, Manny Ramirez, or Barry Bonds, he has a squeaky-clean reputation, the only untainted player to have a 55+ HR season in the drug-testing era. He fills up the stat sheet and in recent years he has dedicated himself to conditioning, thus improving his defense and his speed (he stole eight bases in '09!), and potentially prolonging his career.
What Neyer sees, however, is that even after all those improvements, Howard was 25th in the league in WAR in 2009 (4.9), tied with Dustin Pedroia, Ichiro Suzuki, and Nyjer Morgan. He was eighth amongst first-baseman, trailing Albert Pujols, Prince Fielder, Adrian Gonzalez, Kevin Youkilis, Mark Teixeira, Miguel Cabrera, and Derrek Lee. His extraordinary HR and RBI totals are inflated by the Phillies homer-happy ballpark and the exceptional talent assembled around him, and balanced by his massive strikeout totals and declining walk rate.
Howard entered the league relatively late, at the age of 25. He's significantly older than Fielder, Cabrera, and Gonzalez. And, although he hasn't been in the majors nearly as long, he's actually slightly older than Pujols and Teixeira.
Despite his improved conditioning, there is always concern about how the aging process will effect a slugger with Howard's body type. Big Papi is only the most recent reminder of the danger of severe and relatively early decline in, pardon the vernacular, "pudgy" players. According to Baseball-Reference, the five most similar players to Howard up to age 30 (his current age), are Richie Sexson, Cecil Fielder, Mo Vaughn, Willie McCovey, and David Ortiz. Let's take those one at a time...
Sexson reached the bigs earlier, at the age of 23, and averaged 36 HR and 112 RBI per season with Cleveland and Milwaukee from '99 to '03. He signed his megadeal (4 yrs./$50 Mil.) with Seattle at the age of 30 and posted two solid seasons (36 HR, 114 RBI, 875 OPS) before suffering a precipitous decline. He managed only a 698 OPS and 33 HR in his final two seasons and was out of the game at the age of 33.
Prince's estranged father, Cecil, who was far more husky than either his son or Ryan Howard, was the only player to hit 50 HR in a season between 1977 and 1995. Big Daddy's biggest seasons came in his late 20s, when he led the league in RBI for three consecutive seasons. From '90-'93 he averaged 40 HR and 126 RBI, with an 861 OPS, in a loaded lineup that had him hitting behind Tony Phillips, Lou Whitaker, and Alan Trammell, and in front of Kirk Gibson, Mickey Tettleton, and Rob Deer. Fielder signed his megadeal (3 yrs./$30 Mil.) at the age of 31. His OPS remained more or less steady for three seasons, though he struggled with injuries and hitting in a less productive lineup. His last good season (39 HR, 117 RBI, 834 OPS) came in '96, at the age of 32. He lasted only two more years, never again hitting more than 17 HR, and was out of baseball at the age of 34.
Mo "Hit Dog" Vaughn, like Howard, had his first big season at the age of 25. With Boston from '93-'97 he averaged 36 HR, 110 RBI, and an outstanding 974 OPS. He won the MVP in 1995. He signed a six-year, $78 Million contract with Anaheim at the age of 31 and gave them two solid, but slightly down seasons (865 OPS) before injuries and a notoriously bad trade with the Mets completely derailed his career. He played only 165 games in the final four years of his contract and was gone from baseball at the age of 35.
Big Papi also blossomed late. He was 27-years-old in his first season with the Red Sox. In five seasons from '03-'07 he averaged 42 HR and 128 RBI per year, with a 1014 OPS, finishing in the top five in MVP voting every time. Prior to the '07 season, at the age of 31, he signed a four-year, $52 Million deal. He injured his wrist midway through '08 and hasn't been quite the same since (although there's still hope!). He's currently 34-years-old.
Clearly, there's a trend. Four MVP-caliber first-basemen. Four contracts signed at age 30 or 31. Four teams dissatisfied, sometimes disastrously so, within a couple of years. We should keep in mind that there are some other factors to throw into the equation. Cecil Fielder was a notorious boozer, who now readily admits he made questionable "lifestyle" choices, even during his athletic career. Vaughn, Sexson, and Ortiz have been labeled with the scarlet "S," whether fairly or not. While there would seem to be a trend when all their injuries are thrown together, each seemed somewhat flukish on its own.
Which leaves Willie McCovey.
Stretch, of course, was playing major-league baseball at the age of 21, but his first dominant season came at age 25, when he led the league in homers with 44. Free Agency was never issue for McCovey and the Giants, because he was, as Curt Flood so eloquently put it, "a well-paid slave," but his prime seasons stretched from '63 to '70, during which he averaged 36 HR, 99 RBI, and a 953 OPS. Keep in mind, this was during a pitching era, so those numbers should be treated reverentially; his OPS+ for that span was 166. He had injury-shortened seasons in '71 and '72 (he was 33 when he first hit the D.L.) and while wasn't quite the same thereafter, he was still very good. From '73 to '77 he averaged 22 HR, 66 RBI, and a solid 856 OPS (138 OPS+). Unfortunately, the legendary McCovey attempted to keep playing into his forties, though he was only a glimmer of his former self (see Jr., Griffey).
I think it's safe to say Philadelphia would be satisfied if Ryan Howard's career arch followed that of the Hall of Famer. His work ethic and dedication will certainly be contributing factors, as will his ability to avoid major injury. I will be rooting for him.
.....
As a little postscript, I think it's necessary to point out that for the second time in his career, Ryan Howard (and his agent, Casey Close) has altered baseball's financial terrain. A few years back his record-breaking arbitration award ($10 Million) contributed heavily to teams locking up marquee younsters like Evan Longoria, Justin Upton, and Ryan Braun to long-term deals before they even reached arbitration eligibility. Now, his $25 Million annual salary will probably be the baseline for Albert Pujols, Prince Fielder, and Adrian Gonzalez, all of whom will hit the market after the 2011 season and all of whom can easily argue that they are worth at least as much as Howard. I would say that in the wake of this contract and, to a lesser extent, the Teixeira signing of a year ago, Miguel Cabrera's eight-year, $152 Million deal, which runs through 2015, looks like a steal.